FARMINGDALE, N.Y. – Tiger Woods will have his work cut out for him if he wants to get back into contention at the PGA Championship. He's nine shots behind first-round leader Brooks Koepka after shooting 72 on Thursday.
At least Woods will be able to keep one eye on Koepka as he tries to chase him down. They tee off together at 1:49 p.m., along with Francesco Molinari.
Woods' ball-striking was steady in the first round. He made three birdies and an eagle, but also had two three-putts and twice flew greens with short wedge shots. He missed all five putts he faced from 5-10 feet on Thursday.
Woods excited the Bethpage fans by playing the first four holes of his back nine in 4 under par. That stretch got him into red figures after he doubled two of his first eight holes.
RELATED: Leaderboard | Tee times | Tiger's up-and-down Round 1 | Rethinking Tiger's future | Tiger 'welcomes' playing in Olympics
He undid all that hard work with three bogeys on his next four holes. That included two three-putts and a failed attempt to save par just off the green.
He'll need to clean up those mistakes if he wants to make a run this week. But there were enough positive signs to believe it may be possible. He missed just four fairways while hitting driver on a majority of the holes and hit 12 greens, many of them with long-irons in hand.
Stay here for live updates from his round.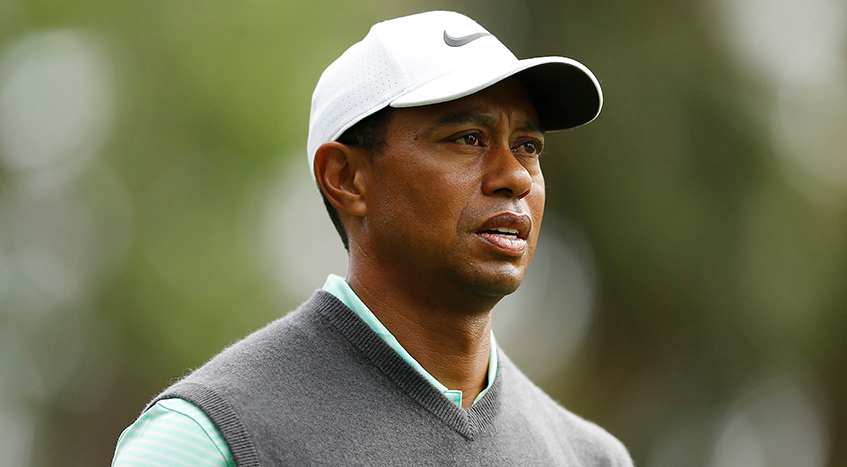 Tiger Woods is looking to win the first two majors of the season. (Michael Reaves/Getty Images)
ROUND 2: TIGER HOLE-BY-HOLE
No. 13 (par 5, 608 yards): A hard-earned birdie on the Black Course's only par-5 on the back nine. He had to lay up after driving into a fairway bunker, but then hit his 160-yard approach to 9 feet. He's sandwiched three bogeys between birdies on 9 and 13. Four over may be enough to make the cut but he can't afford to drop another shot on the last five holes.
Fairway: Missed (1 of 11)
Green: Hit (6 of 13)
Putts: 1 (21)
Score: 4 (+2, +4 overall)
No. 12 (par 4, 515 yards): Tiger was just inches from hitting his second fairway of the day. He hit the green from 213 yards, but three-putted for another bogey. It's his third three-putt of the week. He needs some birdies coming in if he wants to be around for the weekend.
Fairway: Missed (1 of 10)
Green: Hit (5 of 12)
Putts: 3 (20)
Score: 5 (+3, +5 overall)
No. 11 (par 4, 435 yards): Tiger is mixing things up a bit. He missed this fairway to the right. He's still hit just one today. From 194 yards out, he tried to play a nifty shot from the rough, choking down on a fairway wood to punch it out of the rough. He squeezed his ball between the bunkers in front of the green, but it ran into the rough behind the green. A poor chip from there left Woods with a 12-foot par putt. He missed that to fall to 4 over for the first time this week. And now he's on the wrong side of the cut line.
Fairway: Missed (1 of 9)
Green: Missed (4 of 11)
Putts: 2 (17)
Score: 5 (+2, +4 overall)
No. 10 (par 4, 502 yards): Stop me if you've heard this before. Another miss to the left off the tee. This is becoming a theme. Just like Thursday, he has to lay up again on this long par-4. He wedges to 11 feet from 109 yards, but he misses the par putt. He's back on the cut line with eight holes remaining.
Fairway: Miss (1 of 8)
Green: Miss (4 of 10)
Putts: 2 (15)
Score: 5 (+1, +3 overall)
No. 9 (par 4, 460 yards): A strong finish to the front nine. Tiger hit the fairway and the green and rolled in his 40-foot birdie putt. That will provide a little breathing room on the back nine as Tiger hopes to stay inside the cut line. It looks like he's playing for a cut with his tee shots but the ball just isn't fading. That's why all his misses have been left. His iron play has been solid when he's had the opportunity to hit approaches from short stuff.
Fairway: Hit (1 of 7)
Green: Hit (4 of 9)
Putts: 1 (13)
Score: 3 (E, +2 overall)
No. 8 (par 3, 210 yards): A straightforward par. And that's a good thing at this point. Tiger hit his 201-yard tee shot to 22 feet, then two-putted for par.
Fairway: N/A
Green: Hit (3 of 8)
Putts: 2 (12)
Score: 3 (+1, +3 overall)
No. 7 (par 4, 524 yards): Another fairway missed. This one was left, as well. He could only hack out on this brutish par-4. He hit a strong wedge shot to 6 feet but missed the putt for his second bogey of the day.
Fairway: Missed (0 for 6)
Green: Missed (2 for 7)
Putts: 2 (10)
Score: 5 (+1, +3 overall)
No. 6 (par 4, 408 yards): Left. Again. He still hasn't hit a fairway, but he collects his first birdie of the day after hitting his 133-yard approach to 18 feet. He holed the putt from the fringe to get back to even par for the day.
Fairway: Missed (0 for 5)
Green: Missed (2 for 6)
Putts: 0 (8)
Score: 3 (E, +2 overall)
No. 5 (par 4, 478 yards): Left again with the driver. He's missed the first four fairways today. The rough is no place to be at Bethpage Black. He's able to advance it into a greenside bunker. He blasted his ball to 9 feet and made the putt to stay on the correct side of the cut line.
Fairway: Missed (0 for 4)
Green: Missed (2 for 5)
Putts: 1 (8)
Score: 4 (+1, +3 overall)
No. 4 (par 5, 517 yards): We'll have to wait another hole for Tiger to hit his first fairway. He's missed left both times he's unsheathed the big stick today. That necessitates a lay-up. His spotty wedge play continued on the third shot, though, as he hit the 75-yarder to 25 feet. He two-putts for par and fails to take advantage of another hole that offers the rare birdie opportunity at Bethpage Black. Nos. 1, 2 and 4 are three of the four easiest holes on the course. He played them in 1 over. Tiger is now 13 shots behind Brooks.
Fairway: Missed (0 for 3)
Green: Hit (2 for 4)
Putts: 2 (7)
Score: 5 (+1, +3 overall)
No. 3 (par 3, 230 yards): Tiger gave himself a great birdie chance after lasering a long-iron to 11 feet on this 221-yard hole. Unfortunately, it's the second consecutive day that he's unable to convert on a strong tee shot on the course's toughest par-3. He missed a 9-foot birdie putt here on Friday. Tiger had to work hard for par after racing the birdie putt by, but he holed his 4-foot par putt to avoid dropping another shot.
Fairway: NA
Green: Hit (1 for 3)
Putts: 2 (5)
Score: 3 (+1, +3 overall)
No. 2 (par 4, 389 yards): The second hole is the shortest par-4 at Bethpage Black but Tiger missed the fairway with an iron off the tee. He could only hack out, leaving himself a 90-yard wedge shot for his third. That shot spun back, some 20 feet short of the hole. Bethpage's first two holes are the second- and fourth-easiest on the course, but Tiger has played them in 1 over. Another Brooks birdie means Tiger is now 12 back and, more importantly, on the cut line.
Fairway: Missed (0 for 2)
Green: Missed (0 for 2)
Putts: 2 (3)
Score: 5 (+1, +3 overall)
No. 1 (par 4, 430 yards): A sloppy start. Tiger missed both the fairway and the green on Bethpage's opening hole, but he salvaged par with a strong sand shot. He pulled his opening tee shot into the fans, which was a thrill for the New Yorkers but a headache for security. It took several minutes for the rowdy gallery members to clear out and give Tiger enough room to gouge his ball out of the thick stuff. He bounced that shot into the bunker, but he left himself plenty of green to work with. He finished it off with a 4-foot birdie putt. Brooks made an easy birdie, though, and Tiger is now 10 back.
Fairway: Missed (0 for 1)
Green: Missed (0 for 1)
Putts: 1 (1)
Score: 4 (E, +2 overall)