First ball he faces from Nathan Lyon, Jason Roy lofts him over his head for six. He's taken on the fielder at long-on as well. Is that a statement or what?
That's the 50 up for the Three Lions. 0/50 after 10 overs.
Aaron Finch throws the ball to Nathan Lyon. What can the GOAT do? The quicks haven't been able to break through, maybe Lyon can. At least he'll ask different questions of the batsmen.
Oooh! Those wrists of Jason Roy. Flick off the pads finds the rope. Another boundary for the hosts. They're 0/44 after nine overs. Any rain on the weather radar in Birmingham?
If you haven't been near a TV tonight, this is what Alex Carey had to put up with while batting after copping one on the chin from Jofra Archer.
Not sure exactly what damage Carey has done but it has not stopped him from taking his position behind the stumps.
It drew a few comparisons to Rick McCosker, who batted with a broken jaw in the Centenary Test. McCosker, you might remember, was more recently involved in Australian cricket as the man who chaired the player-led review into the national men's team.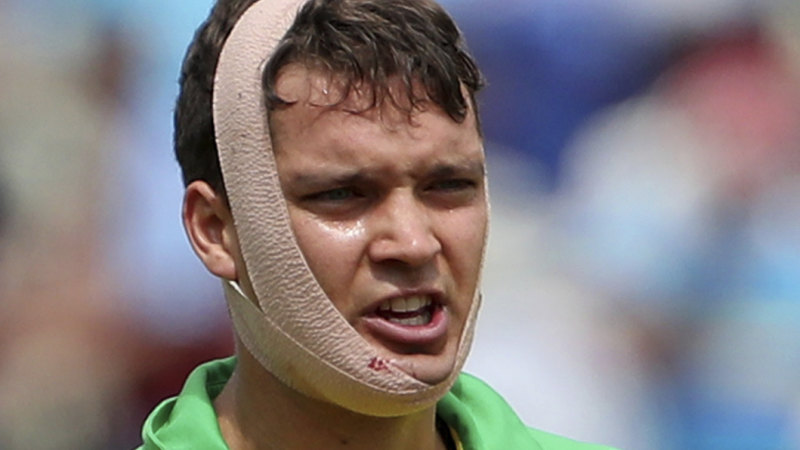 Check out the wrist work from Jason Roy there. He's flicked Mitchell Starc over fine leg for six. Takes a lot of skill to do that. I'll keep an eye out for some vision of this.
Meanwhile, England's 0/31 after six overs. Pat Cummins is into the attack. He has a knack of getting wickets against the flow. Aaron Finch needs him to right now.
It hasn't been the most dynamic start by England's opening pair but they don't need one chasing 224.
They'd be happy not to have lost a wicket in the first five overs. Australia were 2/13 at the same stage.
It won't be long before Pat Cummins is into the attack. Jason Behrendorff is not getting much sideways movement.
England's batsmen have made an encouraging start (if you're an England fan). There does not seem to be much swing or movement off the seam for the Australian bowlers.
This has not been the World Cup Glenn Maxwell would have been hoping for. He had the opportunity to atone but made 22 before falling in an ungainly fashion to Jofra Archer.
Jason Behrendorff to bowl the first over of England's innings. The Canberran does have the one that comes back into the right-hander, which is a big weapon to have in any left-arm paceman's armoury.